What is Brow Lamination?
Brow lamination is designed for clients who have unruly, flat or downward growing hairs. Brow lamination can change the direction of growth to create a more uniform look with a higher arch and a more desirable brow shape. Brow lamination lasts 4 to 6 weeks generally, but with proper care your clients brow treatment can last as long as 8 weeks. The treatment smooths out the eyebrow hairs while also lifting the brows. The best part is that the brow lamination treatment tames unruly hairs and makes thin brows look thick and full. This makes the brows look full, symmetrical and defined.
Benefits of Brow Lamination
Quick treatment – On average a brow lamination takes around half an hour, making it a quick and cost-effective treatment for both you and your clients.
Creates a nicer brow shape – If your clients have flat or downward growing hairs, brow lamination can change the direction of growth to create a more uniform look to suit your clients, with a higher arch and a more desirable shape.
No pain – Unlike microblading, brow lamination is an easy pain free treatment. The hairs are lifted and fixed into place using a brow lamination tool. No pain or downtime after!
Long lasting – Brow lamination will last from around 4-6 weeks, making it a great long-lasting treatment. This is perfect for clients who may have trips booked, or need their brows done for a special occasion.
Minimal aftercare – The treatment of brow lamination is that it requires minimal aftercare, so its great for clients with busy schedules who may not have time to look after them.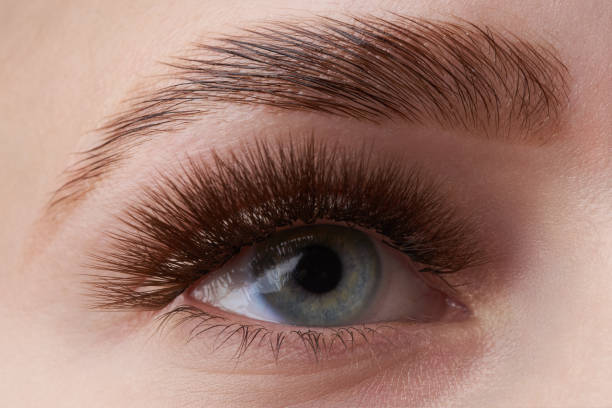 Is brow lamination suitable for everyone?
Unfortunately, eyebrow lamination is not suitable for everyone.
Chemotherapy – A chemotherapy treatment causes your hair to weaken and lose its strength. The hair growth may be temporarily decreased, therefore a contraindication for brow lamination.
Alopecia – Is an autoimmune disease that causes your body to lose hair. Because of this your eyebrow hairs are too weak and there is a big chance that after a brow lamination there will be no hair left.
Scared skin – If you have scrapes, burns or swollen skin it is not recommended to do brow lamination. It can irritate your skin even more and provoke an allergic reaction.
We hope you enjoyed this blog post, and if your not already trained in brow lamination then what are you waiting for! Feel free to check on our website for any training dates that might suit you.